Skywatcher StarTravel 102 Computerized Go-To Telescope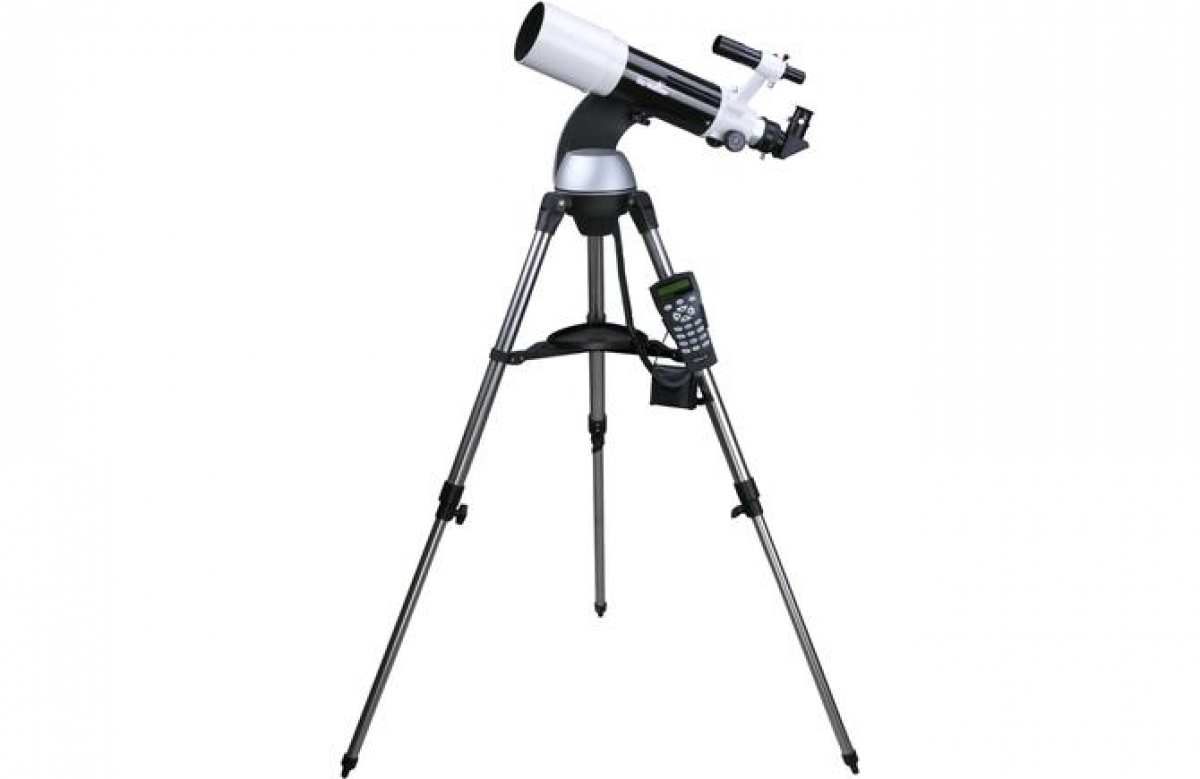 Skywatcher StarTravel 102 Synscan Go-To Telescope
Skywatcher StarTravel 102 Go-To Computerized Telescope Is For Fast Setup, Instant Viewing And Portable Telescope. Features High Quality 102mm (4'') Achromatic Air-Spaced Doubled Refractor With Skywatcher SynScan Mount Provide Best Go-To Function
Skywatcher StarTravel 102 Go-To Telescope Is Great For Beginner Looking For Affordable Computerized Telescope With Good Performance. Go-To System Allow Simple Operation Of Telescope & User Can Immediately Locate Astronomical Objects, Start Observing Without Need Learning Detail Of Star Chart & Star Hoping - 42,900 Object Database
This Telescope Will Take You To Next Step Of Serious Astronomy, Offering Impressive View Of Deep Space & Planets While Comfortably Sitting On Chair. 4'' Air-Spaced Achromatic Refractor Design Allow High Sharpness & Clarity With Unmatched Resolution & Contrast. Planets Show More Than Just Colour Bands - Jupiter Show It's Complex Weather Band Pattern At Finer Details, Saturn's Ring Showing Division, Mars Showing It's Polar Ice Caps & Surface Details. It's Short 500mm Focal Length Offers Wider Field Of View, More Stability And Portability
New Alignment System Includes Daytime Alignment (1 Object Alignment) Brightest Star Alignment And 2 Star Alignment
Features
F/5 Achromatic Refractor
Achromatic Refractor Feature Air-Spaced Doublet Crown-Flint Optical Lens. Achromatic Uses Doublet Design To Reduce Chromatic Aberation. Air-Spaced Doublet Design Provides Better Colour Correction And Less Image Distortion. Refractor Give The Sharpest View With Highest Contrast Of All Telescope Design. Shorter Tube Allowing Less Flexure Thus More Stable
Multi-Coated Optics
Skywatcher StarTravel 102 Go-To Telescope Are Multi-Coated. Multi-Coated Optics Provide High Contrast And Fidelity With Reduction Of Glarring.
Skywatcher Synscan Alignment
As Easy As 1-2-3. You Do Not Need To Know Astronomy, But This Doesn't Mean You Cannot Find Astronomical Objects For Viewing. As Easy As 1-2-3, The Skywatcher Revolutionary Daytime & Brightest Star Alignment Technology Allow Simple Alignment Procedure Of Telescope. After Complete Alignment, The Telescope Provide Accurate Go-To & Tracking Of Objects. Flash Upgradable Firmware
1.25'' Stainless Steel Tripod
Skywatcher StarTravel 102 Go-To Comes Standard With 1.25'' Stainless Steel Tripod Providing Sturdy Observation Platform. Like A Car, If You Have Powerful Engine, You Need Good Set Of Tire To Ensure Stability. This Tripod Provide Good Stability & Lightweight Transportability Plus Providing Adequate Stability
High Quality Accessories Included
Skywatcher Startravel 102 Refractor Comes Standard With 20mm And 10mm Super Eyepiece Series. Super Series Eyepiece Are Modified Kellner (RKE) Design Eyepiece - Very Good Quality For Beginner, Giving Very Sharp View And Image. Eyepiece Are Multi-Coated With MgF² For Best Image Quality
2'' Precision Focuser
Skywatcher StarTravel 102 Comes Standard With 2'' Focuser And 2'' To 1.25'' Adapter. 2'' Focuser Provides More Stability And Less Image Shift Compared To Smaller 1.25'' Focuser. This Also Allow Usage Of High Quality 2'' Accessories
Full 2 Years Warranty!
Add On Accessories
Add On Filter, Lens And Wifi Module At Discounted Rate With Purchase Of Telescope From Us
Specifications
4'' (102mm) Air Spaced Doublet Refractor Telescope With Vixen Dovetail Plate

F/5 Focal Ratio

500mm Focal Length

Multi-Coated Optics

1.16Arc Seconds Resolution

241X Maximum Magnification

212X Light Gathering Power

2'' Focuser

Mini Dovetail Clamp For Finder Scope

Limiting Magnitude

12.5

42,900+ Object Database

25 User Defined Object Can Be Saved

Point Accuracy Enhancement (PAE) Supported

Alignment : 2 Star Align, Brightest Star Alignment, Daytime Alignment

Single Fork Arm Mount Alt-Alz With Vixen Dovetail Clamp

Dual Axis Servo Motor With Optical Encoder

Optional GPS, Wifi & Bluetooth Supported
Included Items
Skywatcher 102mm F/5 Achromatic Refractor

Skywatcher Synscan AZ Mount

1.25'' Stainless Steel Tripod

Synscan Hand Controller

1.25'' 20mm RKE Eyepiece (52° FOV)

1.25'' 10mm RKE Eyepiece (52° FOV)

2'' To 1.25'' Adapter With Intergrated M42 T-Adapter

6x30 Achromatic Straight-Thru Finder Scope

Mini Dovetail Bracket For Finder Scope

45° Erecting Image Prism

User Manual

External Power Pack (Battery Not Included)

2 Years Warranty

Free

RS 232 Computer Communication Cable (Worth RM90)

Free Power Adapter (Worth RM70)

Free Compass (Worth RM25)

Free Online Astronomy Software & Resources
Customer comments
| Author/Date | Rating | Comment |
| --- | --- | --- |