Skywatcher RC8 EQ5 Pro Package
Skywatcher USA RC8 EQ 5 Pro Telescope
Skywatcher RC 8 Telescope Package Combined With 8'' Coma Free Rithcey Chretien Telescope With High Quality EQ5 Pro Mount Provide High Performance And Tracking Accuracy And Is The Mount For Advance Imager, Looking For A Very Sturdy High Payload Mound.
Features 8'' (203mm) Rithcey Chretien Coma Free Telescope With Dual Speed Focuser Providing Flat Field Coma Free Visual And Imaging Experience. 99% Reflectivity Dielectric Coating Come Standard With This RC Telescope
Skywatcher EQ 5 Pro Mount Is Suitable For Astronomer Looking For High Accuracy And Stable Imaging Platform Meant For Portability. Skywatcher EQ 5 Pro Have Features Similar To Larger HEQ 5 Pro And NEQ Pro 6, But In A Smaller More Portable Package. The Skywatcher EQ 5 Pro Mount Is A Serious Mouting For Those Looking For A Proven High Tracking Accuracy Mount, Providing Accuracy Within Range Of +/-10 Arc Second Periodic Error. The Smooth Microstepper Motor Provide Constant Tracking Accuracy And With Autoguiding, Accuracy Of Less Than +/-2 Arc Second Can Be Achieved.
The Skywatcher Eq 5 Pro Mount Can Carry Payload Of Up To 10Kg (7Kg For Imaging) Capable Of Holding Optical Tube With Accessories Up To 6'' Size Catadioptric Or 5'' Refractors For Imaging, Up To 9.25'' Telescope For Visual Usage. The Skywatcher EQ 5 Pro Mount Is The Choice For Those Keen On A High Precision Mount With Future Room For Expansion And Multiple Capability In Both Visual And Imaging. Include Synscan System Allowing Tracking Of Over 42,000 Object Database
Features
99% Reflectivity Dieletric Coated Aluminium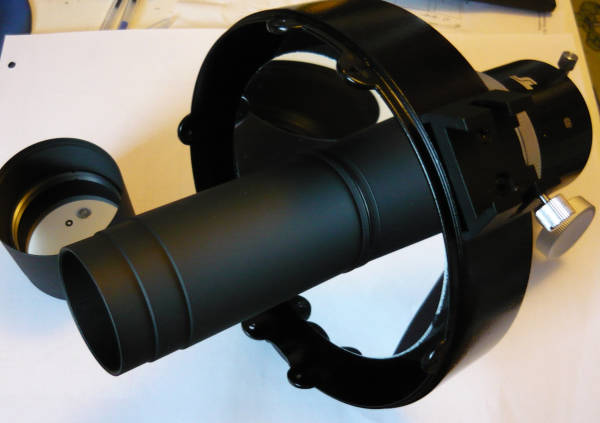 These Mirror Of Telescope Are Specially Coated To Provide Maximum (99%) Light Reflectivity To Get The Best Contrast Available For Image Or Visual Usage. Compund RC Telescope Are Very Compact Due To The Optical Design
Precision Dual Speed 1:10 MicroFocuser
Most Standard SCT Comes With Standard Focuser, Our RC Telescope Comes With High Quality Dual Speed Microfocuser To Allow Precision Focus And Sharp Image. Our RC Telescope Comes Standard With 2'' Precision Focuser
Features
High Percision Microstepper Motor
Skywatcher EQ 5 Pro Mount Feature High Precision Microstepper Motor, Providing Very High Resolution - 0.288 Arc Second Per Step. The Mount Is Capable Of Achiving Less Than +/-2 Arc Second Periodic Error With Auto Guiding
Adjustable Stainless Steel Tripod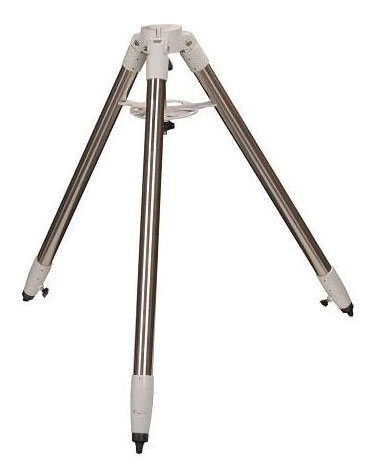 Skywatcher EQ 5 Pro Comes Standard With 1.75'' Stainless Steel Tubular Tripod To Provide Stability And Sturdy Platform For Imaging. The Tripod Is Relatively Light Weight For Transportability. Best Choice For Portability And Stability
Computerized Go-To System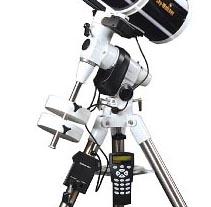 Skywatcher EQ 5 Pro Mount Feature Go-To Technology. Built-In Internal Computerized System With 42,000+ Object Database, Which Is Fully Upgradable For Future Database Expansion. The Controller Controls The Precise Dual Axis Servo Motor Allowing Accurate Go-To And Tracking
Specifications
8'' RC Telescope
8'' (203mm) F/8 Ritchey Chretien Optical Telescope

F/8 Focal Ratio

1624mm Focal Length

13.4lbs Weigth

Dual V-Vixen Dovetail Plate

Central Obstruction : 85mm (17.5% By Area)

Internal Baffled

Dual Speed 1:10 Precision Focuser
Mount
Positioning Accuracy up to 1 arc minute. Accuracy enhanced by software collimation error (mount mechanical error) compensation.

Payload Capacity : 10Kg (Visual) 7Kg (Imaging)

Stepper motors with 1.8° step angle and 64 micro steps driven.

Slewing speed up to 3.4°/sec (800X).

Auto Guider Interface for astro-photography.

Guiding speed selectable from 0.25X, 0.50X, 0.75X, or 1X.

Object database containing complete Messier, NGC, and IC catalogues.

Minimal vibration for steady long-exposure photography.

Periodic Error Correction.

PC compatibility.

Upgradeable hand control via internet download

Telescope Mounting Method: Tube Ring

Tripod: Stainless Steel Legs

Counterweight Shaft Material: Stainless Steel

Mount Weight (without counterweight): 4.6Kgs

Mount Height: 35cm

Total weight: 9kgs (without counterweights)

Motor Type: Microstep driven 1.8 degree stepper motors

Motor Resolution: 0.288 arc sec

Power Supply: 12V DC 2Amp (Tip positive)
Included Items
8'' F/8 Ritchey Chretien Telescope

2'' Dual Speed 1:10 Microfocuser

1X 50mm Spacer

2X 25mm Spacer

1.25'' Star Diagonal

40mm Super Plossl (40x)

6x30 Optical Finder Scope

Skywatcher EQ 5 Pro Go To Mount

1.75'' Stainless Steel Tripod

1x 5.1Kg Counterweight

Skywatcher Synscan Remote Controller

1 Year Skywatcher Malaysia Warranty
Customer comments
| Author/Date | Rating | Comment |
| --- | --- | --- |