Skywatcher Evostar 120 EQ5 Telescope
RM 2,999.00
RM 349,900.00
---
---
Skywatcher Evostar 120 EQ-5 Telescope
Skywatcher Evostar 120 EQ-5 Refractor Suit Astronomer Looking For High Quality Refractor Package With High Quality Equatorial Mount (Significantly Better Than EQ3/CG-4). 5'' Refractor Provide Good Visual And Imaging Performance Unmatched By Similar Sized Telescope - Better Than Even 6'' Schmidt Cassegrain.
EQ-5 Give Accurate And Stable Imaging Platform Plus Portability. Skywatcher EQ-5 Mount Have Features Similar To Larger HEQ-5, But More Portable Package. Skywatcher EQ-5 Mount Is Serious Mount For With Proven High Accuracy Mount
Skywatcher EQ-5 Mount Can Carry Payload Up To 11Kg, Capable Of Holding Optical Tube With Accessories Up To 9.25'' Telescope. Choice For Those Keen On High Precision Mount With Future Room For Expansion And Multiple Capability Both Visual And Imaging
Features
High Quality Achromatic Refractor
Skywatcher Evostar 120 EQ-5 Feature High Quality 120mm F/8.3 Achromatic Refractor Telescope. Multi-Coated Optics Provide Sharp And High Contrast Image, Unmatched By Lower Quality Refractors. Provide Best Visual Experience
High Quality Equatorial Mount
Skywatcher Evostar 120 Telescope Features High Quality EQ-5 Mount. Support Paylod Of 11Kg, Ample For Most Beginner And Advance Imager Looking For Portable Mount With Future Upgradablity
Adjustable Stainless Steel Tripod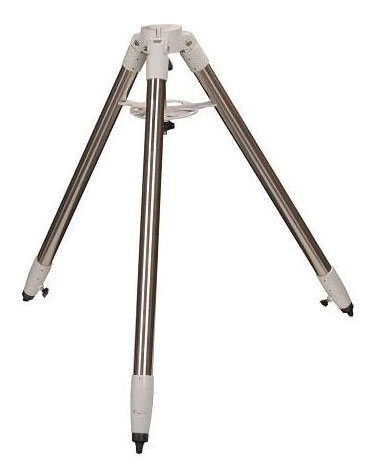 Skywatcher Evostar 120 EQ5 Telescope Comes With 1.75'' Stainless Steel Tubular Tripod Provide More Stability And Sturdy Platform For Imaging Than Aluminium Tripod. Tripod Is Light Weight For Transportability. Best Choice For Portability And Stability
.
High Quality Accessories Included
Skywatcher Evostar 120 EQ5 Package With Accessories Found Only In More Expansive Telescopes - Large 8x50 Optical Finder Scope, 2'' Star Diagonal. These Extra Upgrade Gives You Extra Saving, As These Accessories Alone Cost RM700
Computerized Go-To System Upgrade
Skywatcher Evostar 120 EQ-5 Telescope Feature Go-To Upgradeable. Once Upgraded, This Allow User To Perform Advance Deep Space Imaging
Specifications
120mm Achromatic Refractor Telescope

Multi-Coated Optics

1000mm Focal Length

F/8.3 Focal Ratio

288X Maximum Magnification

294X Light Gathering Power

0.95 Arc Second Resolution

Payload Capacity : 11kg

Support Upgrade To Motor Drive/Go To System

Minimal vibration for steady long-exposure photography.

Telescope Mounting Method: Tube Ring

Tripod: Stainless Steel Legs

Counterweight Shaft Material: Stainless Steel

Mount Weight (without counterweight): 4.6Kgs

Mount Height: 35cm

Total weight: 9kgs (without counterweights)
Included Items
Skywatcher 120mm F/8.3 Achromatic Refractor

Skywatcher EQ5 Mount

2'' 90 Degree Star Diagonal

2'' To 1.25'' Adapter

8x50 Black Diamond Optical Finder Scope

1.25'' 25mm Super Kellner Eyepiece

1.25'' 10mm Super Kellner Eyepiece

1.75'' Stainless Steel Tripod

Accessories Tray

1x 5.1Kg Counterweight

2 Year Warranty
Customer comments
| Author/Date | Rating | Comment |
| --- | --- | --- |