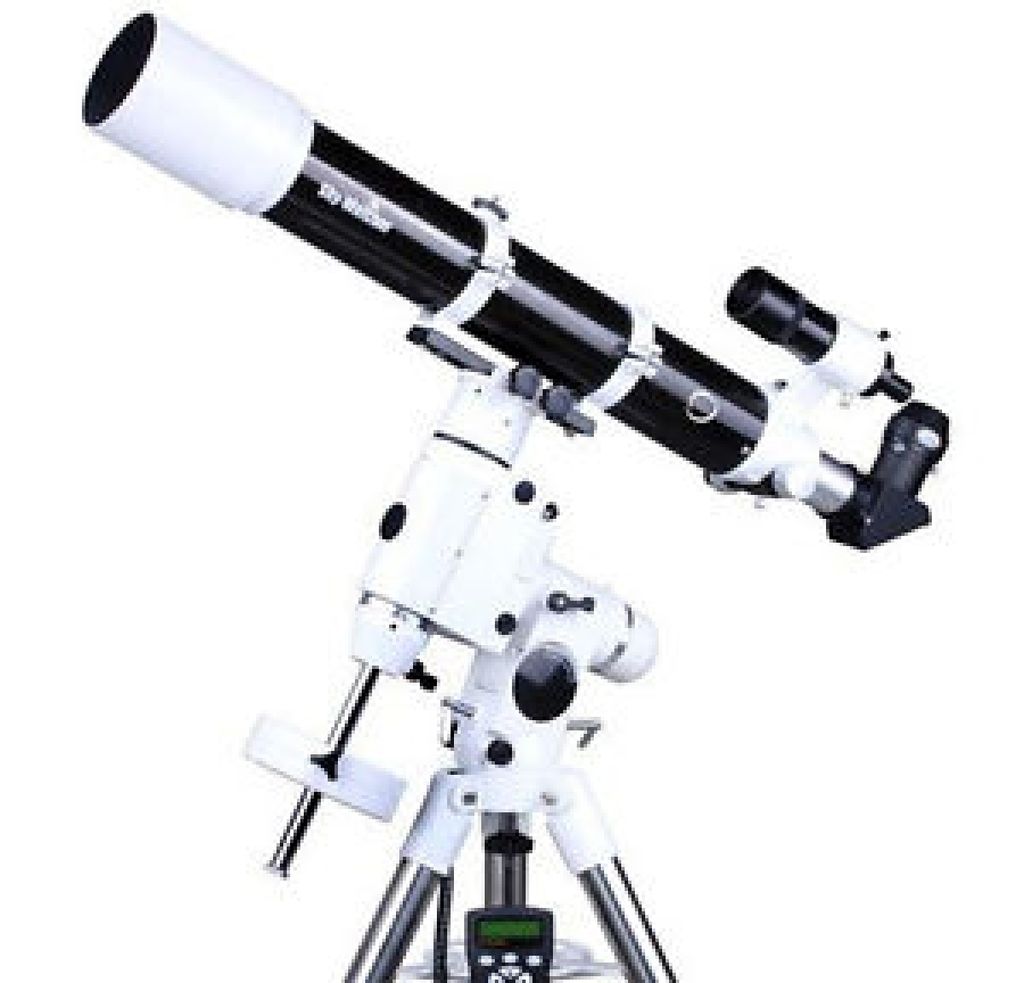 Skywatcher Evostar 100ED DS Imaging Telescope
Skywatcher Evostar 100ED DS Imaging Telescope Package
Skywatcher Evostar 100ED DS APO Refractor Among The Best Imaging APO Refractor. 100mm ED APO Refractor Design Utilizing Japan Ohara FPL-53 Flourite Lens Matched With Schott AG Glass Provides Best Quality And Clarity. View Is Chromatic Aberation Free.
APO Refractor Allow High Sharpness & Clarity With Unmatched Resolution & Contrast. Planets Show More Than Just Colour Bands - Jupiter Will Show It's Complex Weather Band Pattern At Finer Details, Saturn's Ring Showing More Division, Mars Showing It's Polar Ice Caps & Surface Details.
This Optical Tube Suitable For Those Looking For Quality APO Refractor For Both Powerful Visual And Imaging Performance. Optional Corrector/Reducer Available To Enhance Imaging Performance. Wifi Compatible With Optional Adapter!
Combined With HEQ-5 Pro Mount, This Is Best Visual & Imaging Package. Low Periodic Error, Imaging Capacity Of 11Kg (25lbs) And Visual Capacity Of 16Kg (35lbs)
Specifications
Skywatcher Evostar 100ED DS Telescope (Green Banding)
100mm ED Apochromatic Refractor Telescope

F/9 Focal Ratio

900mm Focal Length

High Transmission Metalic (MHC®) Coating Super Multi-Coating

1.16Arc Seconds Resolution

238X Maximum Magnification

204X Light Gathering Power

2'' Dual Speed 1:11 Focuser With Tension Lock

Limiting Magnitude

12.4
Skywatcher HEQ-5 Pro Mount
Positioning Accuracy up to 1 arc minute. Accuracy enhanced by software collimation error (mount mechanical error) compensation.

Payload Capacity : 16Kg (Visual) 11Kg (Imaging)

Stepper motors with 1.8° step angle and 64 micro steps driven.

Slewing speed up to 3.4°/sec (800X).

Autoguider Support

1 Star, 2 Star, 3 Star Alignment

Solar Tracking Mode

Sidereal, Luna, Solar Tracking Speed

1 Star Polar Align

Object database containing complete Messier, NGC, and IC catalogues.

Minimal vibration for steady long-exposure photography.

Periodic Error Correction.

USB Support

EQMOD Compatible

Upgradeable hand control via internet download

Tripod: 1.75'' Stainless Steel Legs

Mount Weight (without counterweight): 10Kgs

Total weight: 15kgs (without counterweights)

Motor Type: Microstep driven 1.8 degree stepper motors

Motor Resolution: 0.144 arc sec (or 9.024,000 steps/rev.)

Power Supply: 11 to 15 V DC 2Amp (Tip positive)
Total Weight Of System Assambled : 25Kg
Included Items
Skywatcher Evostar 1000ED DS APO Refractor

Carrying Case

2'' 99% Reflectivity Dieletric Diagonal

8x50 Straight Thru Finder Scope

28mm 2'' LET Eyepiece

2'' To 1.25'' Adapter

T-Adapter For DSLR (T-Ring Required)

Dust Caps

Clamp Ring With Vixen Dovetail Plate

Skywatcher HEQ 5 Pro Go To Mount

1.75'' Stainless Steel Tripod

2x 5.1 Kg Counterweight

Skywatcher Synscan Remote Controller V4

User Manual

RS-232 To Serial Computer Control Cable

2 Years Warranty
Customer comments
| Author/Date | Rating | Comment |
| --- | --- | --- |