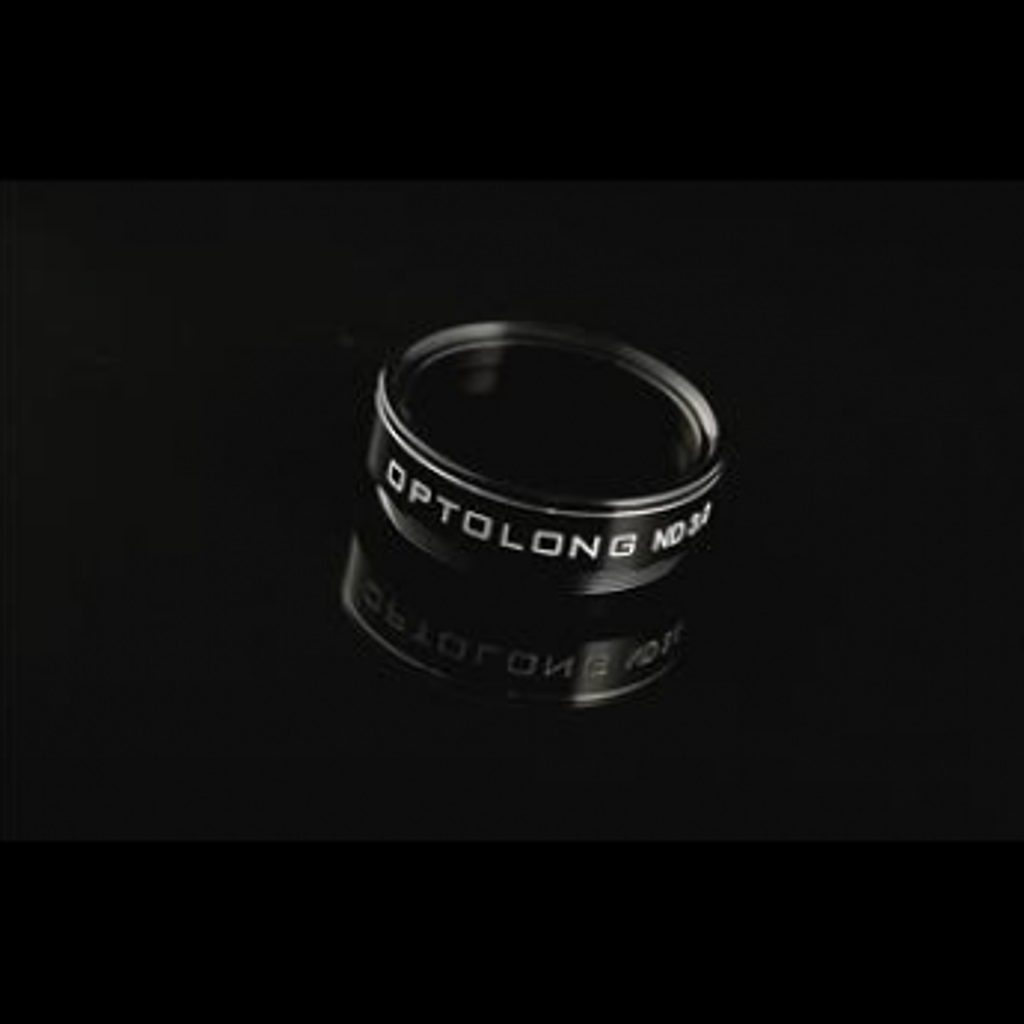 Optolong ND3.0 Filter
ND-3.0 Neutral Density Filter from Optolong can be used with a solar wedge or on an eyepiece to cut the overall brightness of an object without changing the color balance. Since all wavelengths of light are transmitted uniformly, neutral density filters retain an object's true color. Use this ND3 filter to split double stars, observe Venus, or experience a more detailed view of the Moon. The Optolong Neutral Density Filter has an ND-3.0 rating, and so it has a 1,000 reduction factor and a transmission of 0.1%/
The Optolong 2" Neutral Density ND3 Filter is made with Schott glass that has been multi-coated with an ion-assisted deposition technology to ensure scratch resistance and stability on the central wavelength, or CWL. The filter cell is made of lightweight, strong metal and is CNC machined, sand-blasted, black anodized, and then laser engraved. The result is a super thin filter cell that will produce a clear aperture of 45mm.
Quality Filter Materials:
Schott B260 substrate material from Germany, 2.0mm thick
CNC machined and black anodized aero-metal filter cell that is ultra-thin to provide largest clear aperture; Laser-engraved to prevent fading
Multiple layers of anti-reflection non-cementing coatings applied via electron-beam gun evaporation with Ion-assisted deposition
Optolong Filter Manufacturing Processes and Parameters
Filter substrate is fine-optically polished to 1/4 wave and <30 parallelism over both surfaces
Surface quality, according to MIL-O-13830, is 60/40
1000 reduction factor, 0.1% transmission
Optolong's planetary rotation system is a homogenous and precise coating procedure
Thin metal cells have a clear aperture of 45mm for 2" filters
Each filter comes with a plastic case with high pressure EVA case lining
Free Shipping Worldwide Via Registered Pos. For Express Shipment, Contact Us For Charges!
Customer comments
| Author/Date | Rating | Comment |
| --- | --- | --- |