Meade StarNavigator 90mm Computerized Telescope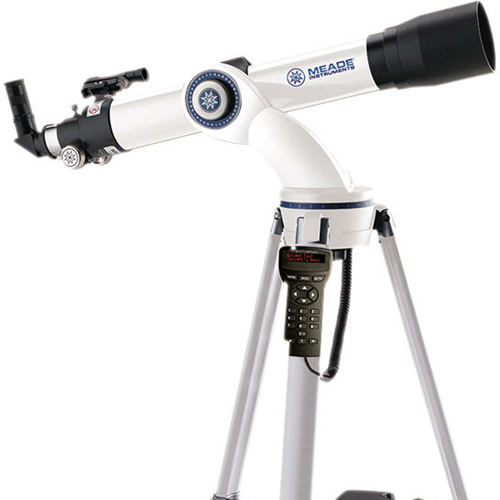 Meade StarNavigator 90 Computerized Telescope
Meade StarNavigator 90 Computerized Telescope Is An Excellent Choice For Beginner Astronomer. StarNavigator Helps User To Navigate To Thousands Of Wonderful Celestial Objects With Assistant Of On-Board Computerized System. The 90mm Aperature Pack More Than Enough Power For Beginner Allowing High Quality Viewing Of Planets, Nebula, Star Clusters And Much More.
The StarNavigator 90 Telescope Feature Built In Go-To System, With Control Via Autostar 497 That Packed With More Than 30000 Object Database. Multi-Coated Objective Provide High Contrast View With Increase Image Brightness. This Telescope Also Suitable For Terrestial Usage As Well.

This Is A Perfect Go-To Telescope With Performance And Stability, You Can Connect To The Nature & Celestial Objects Anytime You Want, Viewing Wonders Of The Sky - Magnificient Lunar Crates, Jupiter's Cloud Band And It's 4 Galilean moons, Ring Of Saturn And Much More. This Magnificent Telescope Feature The Best Optics -90mm Achromatic Refractor With Multi-Coated Optics, Enhancing The Contrast Of View And Your Visual Experience
Features
Achromatic Air-Spaced Doublet Design
Meade Starnavigator 90 Feature Air-Spaced Doublet Achromatic Design. Refractor Provides The Best Image Colour And Contrast View
Multi-Coated Optics
Meade StarNavigator 90 Telescope Feature Multi-Coated Optics. Multi-Coating Provide Increase Image Brightness And Contrast By Reducing Light Lost By Absorption Or Reflection
Autostar Computerized System
Meade StarNavigator 90 Computerized Telescope Feature Onboard Autostar Controller System. This Advance Computerized System Will Assist In Alignment Of Telescope Plus Go-To & Tracking When Alignment Is Done. On-Board Database Default Is 30000+ Object Database (Expandable). The Movement Of Telescope Is Controlled By Onboard Computer System With Precise Servo Motor With Optical Encoders
High Quality Eyepiece
Meade StarNavigator 90 Computerized Telescope Includes High Quality Meade Modified AchromaticEyepiece. Modified Achromatic Eyepiece Are Premium Grade Telescope Eyepiece Providing Very Wide Field Of View With Low Optical Distortion.
Specifications
90mm Refractor Design

Achromatic Air-Spaced Doublet

Multi-Coated Optics

F/8.8 Focal Ratio

800mm Focal Length

1.30 Arc Seconds Resolution

210X Maximum Magnification

165X Light Gathering Power

30000+ Object Database

Alignment : Autoalign, 2 Star Align

Dual Axis Servo With Optical Encoder Driver

Single Fork Arm Mount

Assambled Weight 10.9 Kg
Included Items
Meade StarNavigator 90 Refractor Telescope

Adjustable Aluminium Tripod

Meade Bubble Leveler

1.25'' 25mm MA Eyepiece

1.25'' 9mm MA Eyepiece

90° Star Diagonal

Autostar 497 Controller

Accessories Tray

Autostar Suite Astronomy Edition Software

User Manual
Customer comments
| Author/Date | Rating | Comment |
| --- | --- | --- |