Levenhuk D70L Digital Microscope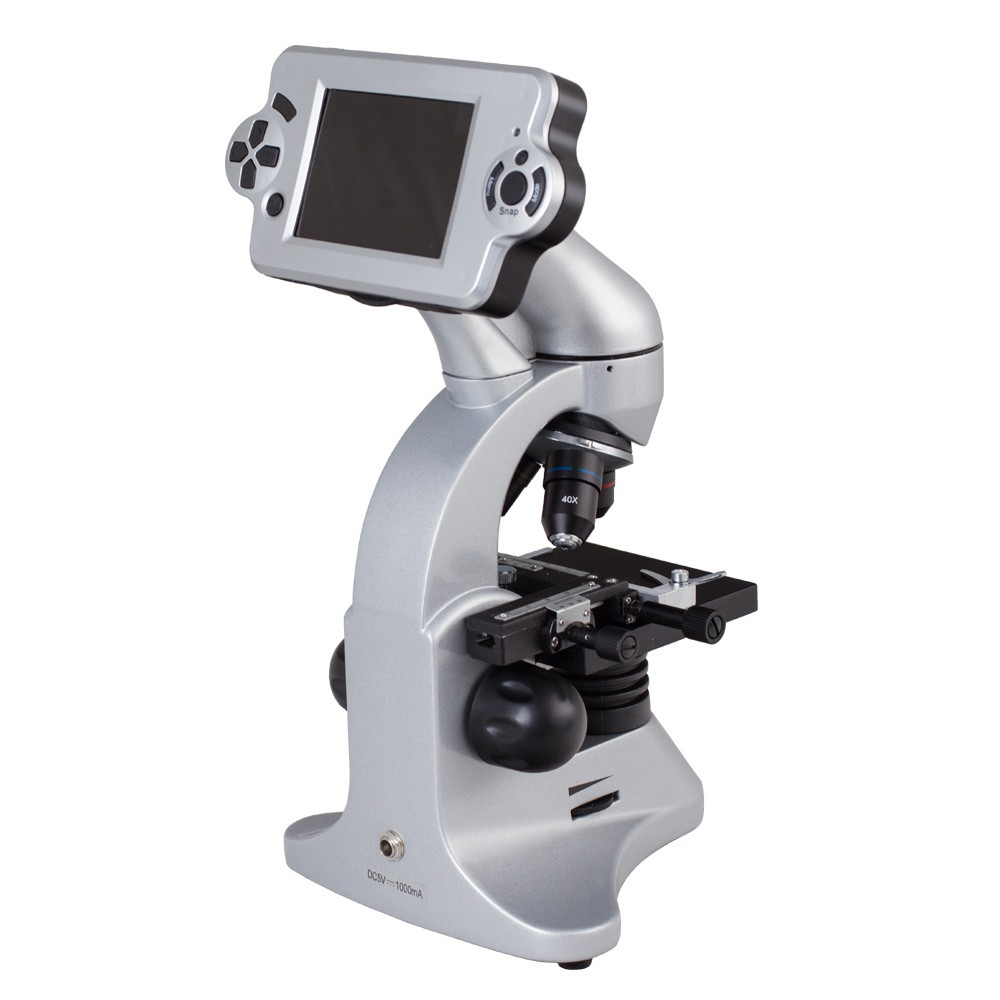 Levenhuk D70L Digital Microscope
Levenhuk D70L Digital Biological Microscope features superb image definition, especially at the edges, ensured by hardware reliable performance. The basic configuration provides wide image processing possibilities.
The Levenhuk D70L is used for observations of transparent and opaque objects in transmitted light using the bright field method, for biological use and teaching demonstrations.
More photos of Levenhuk D70L:
The microscope includes:
Stand with focusing arm
Base with build-in illumination
Bracket with stage
Revolving nosepiece with objectives
LCD display, memory card slot
Diaphragm disk with 5 color filters
Illumination lens upper/lower
Compatible OS: Windows 7/8.
Levenhuk D70L modules:
Focusing arm
The focusing arm located on the stand allows vertical movement of the stage. Handles are lined up at the both sides of the stand. The total focusing value is at least 10 mm (0.4 in).
Stage
The stage is fixed on the bracket secured on the focusing arm block. The specimen holder is located on the stage surface, and the diaphragm disk is attached to the lower part of the stage. A stopping screw limits movement of the stage bracket, which eliminates possible contact between the objective and the specimen.
Revolving nosepiece
The revolving nosepiece holds the objectives; to replace an objective, rotate the ring until it reaches the fixed position.
Head
3.6" LCD display.
Maintenance of the microscope
The microscope should be kept clean and protected from damage. When it is not in use, cover the microscope with a special case included.
To maintain the microscope, regularly wipe dust off it, then clean it with a soft cloth slightly moistened with acid-free petroleum jelly. Afterwards, wipe it with a dry, soft, clean tissue.
Metallic parts should be kept clean. Special attention should be paid to maintaining cleanliness of the optics (especially objectives and eyepieces).
Never touch the optic surfaces with your fingers.
In case dust soils the objective lens deep in the casing, carefully wipe the lens with a clean cotton swab slightly moistened with Levenhuk cleaning spray or spirits mixture. If you notice dust inside the objective or a film on the inside of the lenses, the objective should be sent for repair.
Never attempt to disassemble objectives and eyepieces; doing so would void the lifetime warranty.
Specifications
Full Glass Optics

40-400x Magnification

1600x Digital Magnification

WF 10 Eyepiece

3 Nosepiece Objective (40x, 160x, 400x)

LED Light Illumination

2MPixel Image

Rubber Armoured Body

USB 2.0 Interface

Video And Still Picture Capturing
The kit includes:
Microscope

Objectives: 4x, 10x, 40x

Eyepiece: WF10x

Eyepiece adapter

Retractable LCD display with memory card slot

128 Mb microSD memory card

USB cable

Coordinate moving stage with clips

Diaphragm disk with 5 color filters

Built-in upper and lower LED illuminations

AC adapter*

"Attractive Microscope. Scrutinizing the Microcosm" User Guide

Forceps

Hatchery for brine shrimp

Microtome (tool for making fine slices for observation; allows obtaining specimen slices of sub-millimeter thickness)

Flask with yeast

Flask with pitch for making specimens

Flask with sea salt

Flask with brine shrimp (a sea organism used as a food source for fish)

5 ready-to-use specimens and 5 blank slides

Dust cover

Plastic case

User manual and lifetime warranty
Customer comments
| Author/Date | Rating | Comment |
| --- | --- | --- |