Levenhuk DTX 720 Wifi Digital Microscope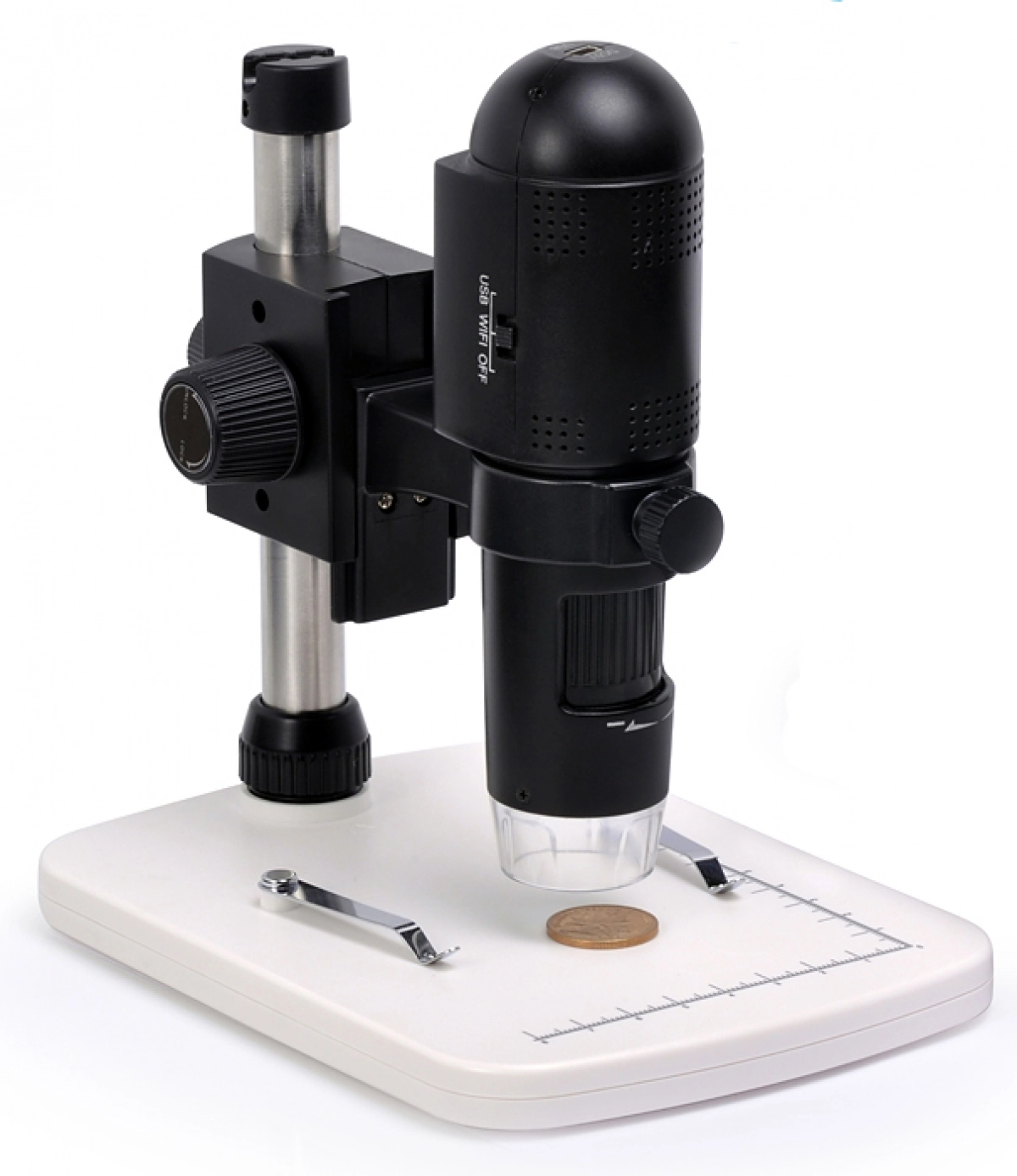 Levenhuk DTX 720 Wifi Microscope
The portable Levenhuk DTX 720 WiFi Digital Microscope is a new concept in modern optical equipment! Lightweight, high-performance and comfortable to use, Levenhuk DTX 720 WiFi makes the perfect instrument for work, hobby and fun! This model is capable of a lot of impressive things such as transmitting a live feed of the observation to an external screen; taking pictures and recording videos; and measuring linear sizes, areas and angles of observed objects. And most importantly – all you need for working with this amazing device is your iOS or Android smartphone or tablet!
Levenhuk DTX 720 WiFi Digital Microscope is designed for observations of opaque objects in reflected light. A wide range of produced magnifications allows you to use this microscope in a large variety of different areas, starting with philately and numismatics and ending with precision work with microcircuits.
Levenhuk DTX 720 WiFi Digital Microscope comes with a convenient tripod that allows for smooth adjustment of the distance between the objective lens and viewing sample. The microscope stage has a special measuring scale and two clips that secure the specimen slide in place. Six white LEDs with adjustable brightness are used in the microscope to evenly illuminate observed samples.
The microscope allows you to observe either on your PC or laptop screen or directly on your iOS or Android device using a wireless connection. You can choose the most convenient way of observing at any given moment.
To connect the instrument to a PC, first install the software included in the kit. The microscope can be connected to your PC through the USB cable, and the observed image will be displayed on the PC monitor. The Levenhuk DTX software gives you the ability to make photos and record quality videos, as well as measure dimensions of observed samples.
Those who value mobility will certainly appreciate the convenience of connecting Levenhuk DTX 720 to mobile devices via WiFi. To operate the microscope using an iOS or Android based device, you need to install Levenhuk DTX application (available in the iTunes App Store and Google Play Store). With Levenhuk DTX 720 WiFi you can not just observe, study and explore, but also share your discoveries with your friends!
Here's what Levenhuk DTX 720 WiFi can do:
display observed image on an external screen in real time
take quality pictures and record video clips
connect to iOS- and Android-based mobile devices via WiFi
connect to computers or laptops via USB
work stand-alone for 90 minutes at a time
measure linear sizes, areas, angles and radiuses
You can study all you want whenever you want - microscopic observations have never been so truly mobile!
Specifications
Full Glass Optics

10-200x Magnification

Manual Focus, 0-150mm

8 LED Light Illumination

1MPixel Image

Wifi Interface

Video And Still Picture Capturing

720P Maximum Video Resolution (1280x720)
The kit includes:
Levenhuk DTX 720 WiFi Digital Microscope

Microscope stand

Calibrating scale

Li-ion rechargeable battery

USB-cable

Cleaning wipe

User manual and lifetime warranty
Customer comments
| Author/Date | Rating | Comment |
| --- | --- | --- |